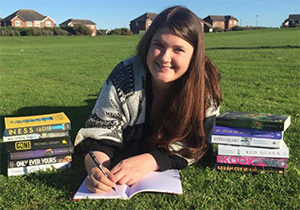 Hi there!
My name is Lyndsay.
I'm a young-adult fiction writer and reader. This blog documents my writing journey—the ups and downs of writing a novel.
I've learnt so much along the way, and I can't wait to share this with you. There have been many mistakes but also a few triumphs! And I hope you'll learn something from here too.
I also love to read, to ingest those beautiful words and smell the pages (like you don't do that). So occasionally, I'll do a book review.
Finally, I am a Masters by Research student.
If you want to get in touch, feel free! I love getting emails; especially ones from people who aren't trying to sell me Viagra and/or magical weight loss pills.
To contact me, just go to my contact page.