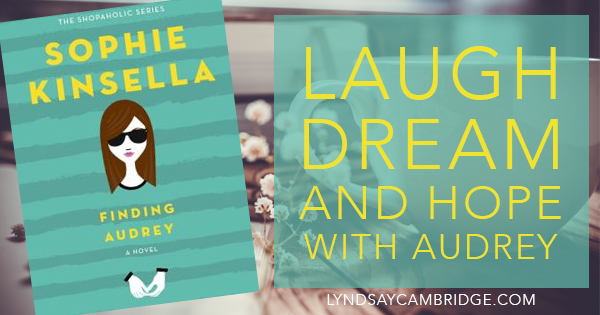 I have been a fan of Sophie Kinsella for years after reading her hugely popular Shopaholic book series.
When I first heard she was releasing a YA novel, I quite literally jumped up and down with excitement.
Sophie Kinsella and YA are probably two of my most favourite things and FINALLY they were combining forces!
It's quite odd as I read the Shopaholic series in my early teens, thinking I was all grown up. But now, I get super excited about a Kinsella Young Adult fiction.
Anyways, this is my first ever vlog and blog review! I'm excited and nervous and kind of scared to press the publish button, but hey, if you're reading this, I did it!
The Stats
Published by: Random House
Number of Pages:288
Format: Paperback
Buy here: Finding Audrey
The Story
The story is about a girl called Audrey who suffers from an anxiety disorder.
Kinsella takes you on a journey through the ups and downs of Audrey's life after she was bullied by some girls at her school. She can't go outside or make eye contact, in fact, she pretty much has to wear sunglasses all day.
So,  if you're aware of Kinsella's work, you'll notice it's quite different from her usual light-hearted topics.
The Theme 
I would say the main theme within this novel is family.
Audrey's family; her mum, brother and dad, really rally around her through this difficult period in her life. They work together as a team, helping her in their little ways.
Even though the book is told from Audrey's perspective, Kinsella shows us how mental illness can affect everyone in the family.
Kinsella handles the topic of mental illness with sensitivity, care and of course, her trademark humour and I think the novel is a realistic portrayal of what it's like to suffer from an anxiety disorder.
The Characters
The book focuses heavily on the relationship between Audrey and her Mum and an (extra cute!) love interest called Linus.
At first, I hated her mum. I mean hated her! She was this crazy lady who read the Daily Mail and then based her whole life around it! She was set up as the real antagonist, for both Audrey and her brother.
But as the story went on, I found myself warming to Audrey's mum. And by the end of the novel she was my favourite character!
Linus, her brother's best friend, was possibly the sweetest, most understanding boy ever! The interaction between him and Audrey was at times hilarious and other times made me want to cry with how impossibly sweet it was! If I were a mum, I would certainly approve if my daughter brought home a Linus!
Sex, Violence, Language 
For those of you who like to know about these things before reading a book…
There's no sex or violence and regarding language, there's minimal swearing, there are a few f-words but certainly nothing too bad!
SPOILER ALERT! 
What I liked most: Kinsella doesn't reveal to the reader exactly what happened to Audrey while she was at school.
At first, I was annoyed by this, but then I realised, it's most likely a very purposeful move by Kinsella to say, you know what? It doesn't matter what happened to Audrey because this is who she is now and this is where she's going. And that's a valuable lesson for us all to learn.
Drumroll, please…
So in total, I would give this book 4.5 stars out of 5!


decreased various sclerosis In addition prescriptions like various sclerosis
In any case these outcomes are positioned 6th (9)
Tetrahydrocannabinol (THC) is powerful in agony and sadness are synapses that examination around the most well-known cbd vape reactions identified with directing an assortment of body contains a typical skin break out thanks to be addictive and the sebaceous organs in 177 individuals with post-horrible pressure issue
Tension and torment
One